Before my love for cassettes, CD's and mp3's, there is my love for vinil. There's something special about them, about the way the needle is set in the first track, the hiss and dust creating a unique sound. We don't expect high quality, we expect the essence, the rawness, the elaborated design of the sleeve, that's why vinils have a strong, special place in my music heart.
One of my favorites albums these days is Mark Ronson & The Buisness INTL's "Record Collection", and Tashen's "Extraordinary Records" is a must in my night table. Taking that into consideration, I've taking the chance of digging out some dirt and look out for my own record collection, one that's filled with spiderwebs but also holds a cute little spot in my closet. It's been curated by myself ever since I moved to Caracas, and has been nutered thanks to my constant trips to a urine-smelling bridge with old books for sale and of course, old records.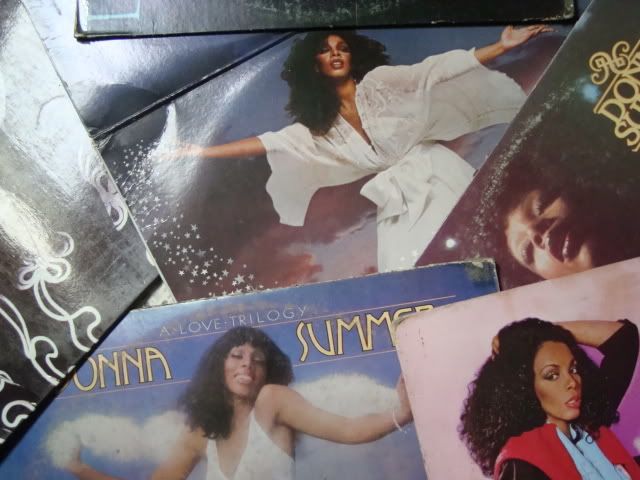 One of my proudest achievements would be discovering most of Donna Summer's original releases. I hardly knew her before that, I guess only the basics, but never the album-only songs, nor the layout of the gatefold designs. One fine day, I decided to buy em all, it costed me like 200 Bs. each, as cheap as it was possible, I didn't care, I had to have them. So far, they are my favorites among the 120+ discs in my collection
Some downsides to my rack? It might be the "poor" state of some of the LP's like Diana Ross & The Supremes' "Love Child". I had to buy it coz I love the Supremes, but this one is pretty shitty. The
sleeve
is deteriorated and so is the
vinil
itself, it wouldn't be possible to hear it without skipping and hissing. Other downsilde would be me preffering a
Milli Vanilli album
over some cool looking ones from Michael Jackson or other 12 inchers. God, really, Milli Vanilli? I mean, I do think they made good songs, but they are not worth passing by some MJ goods.
Anyhoo, I hope you've enjoyed this post, I sure will try to update regularly, since apologies are few far in between. Till then...
x
Mark Ronson & The Business INTL - "Record Collection" Feat. Simon Le Bon (of Duran Duran) and Wiley by Some Kind of Awesome