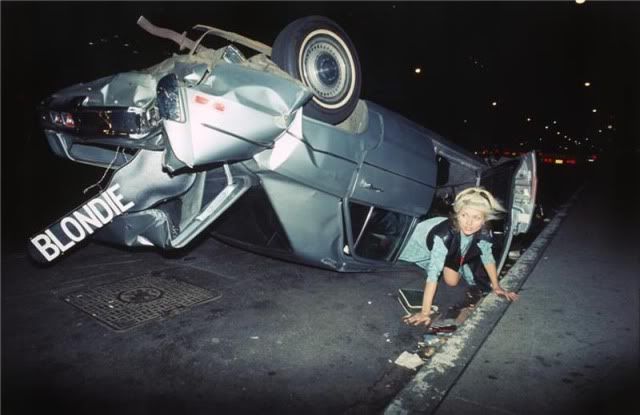 Many people I know tend to recognize Blondie from their most popular work, from 1978 onwards ("Heart Of Glass", "Call Me", "The Tide is High" and 1999's "Maria"). That's ok, but still a bit unfortunate 'cause deep in its core, Blondie was an underground punk rock band with modern and tropical influences. Four male musicians, masters at their work, fronted by one hot blonde (with really dark roots), whose voice evocated sassyness, anarchy, sensuality and even vulnerability.
All the greatness of Blondie's catalogue should be traced from their 1976 selftitled debut on Private Stock Records. It's quick and fast (only 33 minutes long), with some intervals of slow jazzy tropicalia ("Man Overboard") and love magic ("In the Flesh"). Nevermind the lyrics, they are infused with remaniscent of the past, longings, romantic challenges and just pure crazyness: words from songs like "Kung Fu-Girls", "X-Offender" or "The Attack of the Giant Ants" would make a great example on how mental but how genius Debbie Harry & co could be.
With such fun, it would be a no-brainer to place this album into my list of favorites, just close to "Parallel Lines" or "Eat to the Beat" but not far away from "Autoamerican" please.
MP3: Blondie - X-Offender