It's sad but i have to be an honest person about it: i've sacrificed most of my social life, whatever that was. I rarely go out now, but in the end, i've been feeling pretty good about it. It's always nice to settle down you know? And i'm not doing it in the style of depressed people. Instead, i take the time to crash my bed and watch some good ol' fashioned movies, the ones that regular folks wouldn't dare to take a peek. The ones I like. This week was interesting, as I had the pleasure to witness three different but equally awesome films:
Candy (1968):
I had some reference to this movie by a Beatles book i have regarding their "movie" career (Ringo Starr plays a short but memorable role as "Enmanuel", a shy but really horny mexican gardner). This is one trippy, weird, almost disturbing picture. It follows the story of Candy Christian (former swedish beauty queen Ewa Aulin), a naive and erotic creature who wonders through life trying to find some meaning to it, while at the same time, running away from any living man who wants to have sex wih her. Who wouldn't? She's extrordinarily beautiful, pinky dresses and lovely voice combined, a valueble possesion for the men in this flick (Marlon Brando, John Huston, Richard Burton, Sugar Ray Robinson, Walter Mathau, to name a few). The soundtrack sounds like any other 60s hippie movie, but the story is something else. Highly recommended.
MP3:
Steppenwolf - Magic Carpet Ride
Blowup (1966):
I don't think anyone or anything had prepared me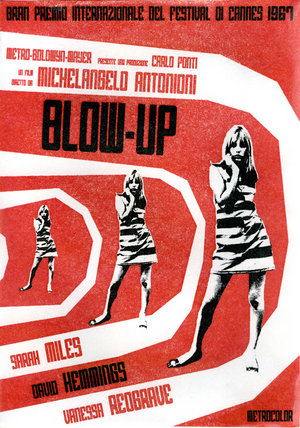 for Michelangelo Antonioni's most known movie. I've only seen the epic posters and heard about Jane Birkin (yes, Gainsbourg's muse) appearing as one of the models, but the entire thing was a big WTF to me. But a good one (it was nominated for Academy Awards, including Best director). I guess being based on a short tale by Julio Cortazar had to do with it, he was a good WTF alltogether in terms of his writing. For fans of fashion, models, photography, 60s mods and swinging London, this must be a fave: it details a strange obsession of a prolific young photographer to discover a mystery murder that took place on a vast park, inmortalized in a series of pics that he took of a gorgeous and sexy Vanessa Redgrave. The big fail relies on the fact that he never truly discovered anything about it and the end of the film sees him watching a silent tennis match played by mimes, and in the midst of that, some wonderful jazz by Herbie Hancock and mod rock by the Yardbirds. It delivers what it is sent out to be: you know, a big good WTF!
MP3:
The Yardbirds - Stroll On
I Think We're Alone Now (2008):
Tiffany. Oh Tiffany...the good old days of my cousins record player, where the good, the bad and the terribly ugly of pop took place. It was a good learning experience for me, trying to find some good tunes out of that, but one I really loved was Tiff's 1987 self titled debut. It was the era of mall concerts and kids screaming to this little lady's hit, a cover of Tommy James and the Shondells'
"I Think We're Alone now"
. The balance between Madonna-like dance grooves and sweet teen angst ballads made her a pop star and a target for any messedup individuals. That's where
Jeffrey Deane and Kelly
McCormick come in, middleaged persons who do NOT have a healthy crush on what was once a teenager but now is a grown woman. Both are clearly mental: one has already a history of stalkerish incidents and was even given a restraining order against him by Tiff herself in 1989, as her fame was slowly fading. The other is an intersexed "girl" who has pictures of her adoration ALL OVER her apartment, believing she's her best friend and were meant to be together. This one hour guerrilla-like documentary does not try to hide how far away these people are from reality, but gives us an inside look on how they cope with their object of desire. Scary.





MP3:

Tiffany - I Think We're Alone Now (Extended Version)